Bill Pay
Bill Pay is faster, easier and more convenient than traditional bill paying methods. Bill Pay allows you to pay anyone, anytime. It can also reduce your expenses by lowering your postage costs and saves you time by setting up recurring payments to occur automatically.
With Bill Pay, no one has access to your funds and information but you. Don't confuse Bill Pay with other, very different automated payment types, such as direct debits and automatic charges to credit or check cards. With those types of payments, the biller does have access to your account information – you supply it when you sign up. With direct debits, you provide the account information needed to access your funds, and you authorize the biller to take money from your account electronically when payment is due. With Bill Pay, only you control when payments are sent, to whom and for how much.
Sign up today for Bill Pay within Internet Banking and enjoy its convenience.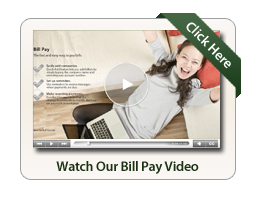 Simply the best way to manage your payments.
Pay Virtually Anyone. Even create automatic payments, which are great for bills that stay the same each month, like your rent and your car loan.
Send Money to Friends and Family. All you need is their email address or cell phone number.
Group Payments into Categories. Organize your utilities, cable and phone into a folder named household.
Transfer Funds To and From Another Bank. Your money is always available, regardless of where you keep it.
Receive eBills. Green, more convenient, more secure and easier to manage.
Set Up Bill Reminders. Receive updates through email when you receive a bill or when it's due.
Search Bill History. Search by company, date and status, the moment you need an answer, wherever you are.
Frequently Asked Questions (FAQ)
May I check out a Bill Pay demonstration before I sign up for it?
Of course, just go to our homepage at https://www.statebankofalcester.com. Click "Online Education Center".  To access Bill Pay, click "Bill Pay".
How does it work?
Compile the names, billing addresses and your account numbers with the Billers. To pay your bills online, simply add the companies and people you want to pay.  We use this information to make the payments for your bills.
After you add your bills, you can go to the Payment Center. The Pay Bills section lists all of the bills you've added. To pay a bill, enter a payment amount and the date when you want the company or person to receive your payment. You can also select this date from the calendar. Pay as many bills as you want at the same time from the Payment Center.
After you pay a bill, it may move to either the Pending Payments section or the Recent Payments section of the Payment Center.
Pending Payments: Provide a quick summary of the payments that have not yet been processed.
Recent Payments: Provide a list of bills that have been paid in the past 45 days.
You can also find a list of the pending and recent payments for a particular biller in the Payment Assistant. If you can't find a payment in the Recent Payments section, go to Bill History, which shows all of the bills you paid in the past 24 months, including electronic bills and the bills that you pay automatically.
How secure is my bill payment and personal information?
We use several methods to ensure that your information is secure.
SSL. Secure Sockets Layer ensures that your connection and information are secure from outside inspection.
Encryption. 128-bit encryption makes your information unreadable as it passes over the Internet.
Automatic Sign Out. Automatically signs you out of a session if you are inactive for a predefined time (usually 10 minutes). It is best if you sign out immediately after you finish your tasks.
Which browsers should I use?
For best performance, we recommend you use one of the following supported browsers
Microsoft Internet Explorer 8 (Windows XP, Windows Vista and Windows 7)
Firefox 3.6 (Windows XP, Windows Vista and Windows 7)
Apple Safari 5 (OS X 10.5 and 10.6)
Chrome 8 (Windows XP, Windows Vista and Windows 7)
While other browsers may work, these supported browsers provide the highest level of security, accuracy and functionality. We also recommend that you enable JavaScript in your browser. JavaScript is required for certain features to function properly.
Is there anyone I cannot or should not pay through Bill Pay?
Payments to your State Bank of Alcester loans or transfers from your State Bank of Alcester account to another one of your State Bank of Alcester accounts that you want to do electronically should be done within Internet Banking, not Bill Pay. 
To make an online payment to your State Bank of Alcester Visa credit card, please use Bill Pay to send the payments directly to Visa at the address on your credit card bill.  Do not send to State Bank of Alcester's address.  Be sure to include all the digits of your credit card number when you enter the account number when you are setting up the payment so that the correct account gets credited.  If you are not comfortable putting your full account number in, you can also pay your credit card bill online by using www.MyCardStatement.com.
Payments to Billers outside of the United States or its territories are prohibited through the Service.
Tax payments and court ordered payments may be scheduled through the Service, however such payments are discouraged and must be scheduled at your own risk. In no event shall the Service be liable for any claims or damages resulting from your scheduling of these types of payments. The Service Guarantee as it applies to any late payment related charges is void when these types of payments are scheduled and/or processed by the Service. The Service has no obligation to research or resolve any claim resulting from an exception payment. All research and resolution for any misapplied, mis-posted or misdirected payments will be the sole responsibility of you and not of the Service.
What is the Scheduled Payment Date?
The earliest possible Scheduled Payment Date for each Biller (typically four (4) or fewer Business Days from the current date) will be designated within the application when you are scheduling the payment. Therefore, the application will not permit you to select a Scheduled Payment Date less than the earliest possible Scheduled Payment Date designated for each Biller. When scheduling payments, you must select a Scheduled Payment Date that is no later than the actual Due Date reflected on your Biller statement unless the Due Date falls on a non-Business Day. If the actual Due Date falls on a non-Business Day, you must select a Scheduled Payment Date that is at least one (1) Business Day before the actual Due Date. Scheduled Payment Dates must be prior to any late date or grace period.
Due to circumstances beyond the control of the Service, particularly delays in handling and posting payments by Billers or financial institutions, some transactions may take longer to be credited to your account. The Service will bear responsibility for any late payment related charges up to $50 should a payment post after its Due Date as long as the payment was scheduled in accordance with the guidelines described under "Payment Scheduling" in this Agreement.
How is my Biller paid?
While our goal is to send all payments electronically, we cannot guarantee 100 percent electronic. The way the payment remits depends on the payee, your payment history, recent activity and the amount of your payment.
In some cases, the payee is not set up electronically. Keep in mind, that whether we send the payment electronically or we send a paper payment, our goal is to deliver the payment to the payee on the due date. If we do send a paper payment, we allow one to three business days in the mail.
What happens if I don't have enough money in my account to cover a bill payment?
If you have nonsufficient funds to pay a bill in the new Bill Pay system, the system will try a second time the next day.  If on the 3rd day there are still not sufficient funds, the collection process will start.  Your Bill Pay account will be frozen until funds are collected.  The Bill Pay system may also freeze your Bill Pay if you are in collection with the Bill Pay system through another financial institution.
How can I cancel my Bill Pay service?
To make sure no payments are missed or duplicated while you're taking over bill payment yourself, you will first need to delete any pending scheduled payments. Then call (605) 934-2512, and the State Bank of Alcester will be happy to take your request.
What are the Cut-Off Times?
Daily cut-off time for Bill Pay is 9 p.m. CST.
With Next-Day payments, the cut-off time might be as late at 9 p.m. CST, depending on the payee's processing capabilities. (Merchant payment processing may have an earlier cut off time).
The cut-off time for an Overnight Payment to be sent next day is 1 p.m. CST.
Popmoney cut-off time is 9 p.m. CST for all payments processing as next day and 12 p.m. for all payments processing as three-business days.
Who do I contact if I have a question regarding Bill Pay?
To initiate a stop payment on a Draft Check, to change your personal information (name, address, phone number, etc.), to add/delete accounts on your Bill Pay system or to cancel your Bill Pay account, contact the bank at (605) 934-2500 or (800) 214-8410 during business hours.
For all other questions, Bill Pay Customer Service can be reached at (855) 744-4730 between the hours of 6 a.m. to 12 a.m. CST, 7 days a week.
Fees and limits may apply.  Must be 18 years of age or older to have Bill Pay.  After seven months of inactivity, your Bill Pay account will be canceled. Product descriptions contained herein do not take the place of required disclosures under federal and state regulations. Please contact us for disclosures appropriate to these accounts.
$l@zr4ji#.l9k