Health Savings Accounts
Take Control
HSAs (Health Savings Accounts) offer a tremendous opportunity for you to take control of your health care. The combination of a High Deductible Health Plan (HDHP) and an HSA offers you a tax-advantaged method of saving money for medical expenses and lowering the premiums you pay for health insurance coverage.
An HSA allows you to pay for current health care expenses and future qualified medical and retirement health care expenses on a 100 percent tax-free basis. HSAs can also be used to supplement retirement income. The funds in your HSA are controlled by you and are rolled over every year for your health care expenses.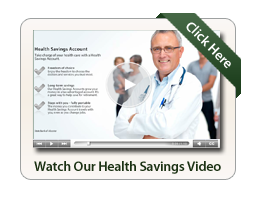 More Information on HSAs
Potential Savings with an HSA
Account Features
A competitive, variable rate of interest on qualified account balances. Interest compounded monthly.

1

Unlimited check writing convenience
24-hour Telephone Banking
Friendly, local, personal service
No monthly fees
No setup fee with initial deposit of $500 or more or with Convenience Package

3
Convenience Package Option
Monthly

e-statements

with check images
Online account access with

Internet Banking

to view your transactions and make contributions
Online

Bill Pay

access to conveniently pay your medical bills 24/7
1Fees may reduce earnings. Average daily balance must be $500 or more to earn interest. $25 initial deposit required.
2 Fees and limits may apply.
3Setup Fee of $25 per account with initial deposits of less than $500 and accounts that do not have Convenience Package.
The information provided in this page is not intended to be legal or tax advice. You should consult your attorney or tax advisor for information that relates to your specific circumstances.
Product descriptions herein do not take the place of required disclosures under federal and state regulations. Please contact us for disclosures appropriate to these accounts.