Internet Banking
Internet Banking is a service from the State Bank of Alcester. It provides you with the convenience of secure banking via any computer with Internet capabilities. It is a safe, simple and secure way to bank. There is no need to wait in line or on hold. Visit our Online Education Center to use a demo or view a video on the features of Internet Banking and enjoy the freedom of banking when you want.
Our system allows you to
View transactions
View check images
Transfer funds
Make loan payments
Schedule transactions to occur automatically
Get e-statements and e-notices.  Sign up to receive your account statements and notices online.  No waiting for the mail.  It's fast, secure and easy.
Update your user information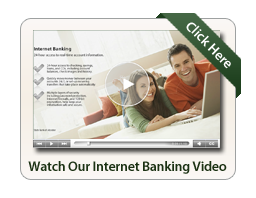 Frequently Asked Questions (FAQ)
How do I sign up for Internet Banking?
Sign up for Internet Banking by clicking Enroll Now.  Fill out the information requested and click "Submit". You will receive two separate "Enrollment Notifications" in the mail. One will have your Access ID and the other will have your password. Once you have both of these, use the information to log onto Internet Banking. The first time you log in, you will be asked to change your Access ID and password. Your Access ID must be 6 to 16 characters. Your password must be 6 to 16 characters and alphanumeric, meaning that it must include both numbers and letters. You will also be asked to set up three Challenge Questions. If you have questions, call (605) 934-2500.
May I check out an Internet Banking demonstration before I sign up for it?
Of course, just visit our Online Education Center to use a demo or view a video on the features of Internet Banking and enjoy the freedom of banking when you want.
What do you need to access Internet Banking?
You need a computer, modem, Internet access and an Internet browser. To experience the full functionality of our Internet Banking site, you MUST be using Microsoft Internet Explorer 6.0 or higher, Netscape Navigator 4.08 or higher or Netscape Communicator 7.01 or higher. Older versions of these browsers may not be compatible with the online banking system. You will get a message saying that your browser does not meet our specific security protocols. You will then need to download a newer version of one of these browsers. Once you have completed the download and installation of the recommended browser, you can return to the login page and log in to Internet Banking.
Is Internet Banking secure?
Yes, the State Bank of Alcester has security features and requirements (which include your Access ID and password) to provide you with peace of mind when you access your account information. To ensure your own privacy, log off Internet Banking whenever you leave your computer. Also, choose your password carefully. Do not choose one that will be easy for someone to guess. Do not tell anyone your password and change it if you suspect someone knows it. To help protect your privacy, if you're called away from your computer while you're signed in, you will be signed off after 30 minutes of inactivity.
How can you add a new account if you already have Internet Banking?
New accounts automatically appear on the Internet Banking system. If there is an account to which you would like access that you currently do not have access to on Internet Banking and are authorized to view the account, contact a Personal Banker and ask to have this account added. You may be asked to complete an authorization form.
You have Internet Banking, but you are being given an error message when you enter your Access ID and password. Why?
Make sure you are using the correct password. If you are unsure of your password, contact the bank to reset your password. You can also receive your password via email by clicking on "Click here to receive your password" after you have incorrectly entered an Access ID and password. Just enter your Access ID and click "Submit". Your password will be sent to the email the bank has on file.
You may also want to check the status of your CAPS lock. Passwords and Access IDs are case sensitive.
How do I sign up for e-statements?
Log into your Internet Banking account.  
Click on "Options".
 Under "eStatement Enrollment", click "Edit".
Mark each box next to the account(s) listed for which you wish to receive e-statements.
Verify and confirm your email address on the right of the list of accounts.
Accept the Terms and Conditions.
Enter the confirmation code at the bottom of the Terms and Conditions.
Click "Accept".
Enjoy e-statements within Internet Banking.
Fees may apply.  Internet Banking usage may be subject to a fee by your service provider.
Product descriptions contained herein do not take the place of required disclosures under federal and state regulations. Please contact us for disclosures appropriate to these accounts.