Enhanced Online Security
Enhanced Online Security is our authentication system for Internet Banking. It utilizes multiple layers of security to ensure that your accounts and information remain secure. Enhanced Online Security protects you from fraud and Identity Theft by preventing unauthorized access to your accounts.
After you have registered, whenever you enter your Access ID and click the "Log In" button, the bank will identify you through your computer or answers to your challenge questions. These security features help protect your account information when you use Internet Banking.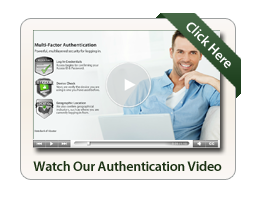 Frequently Asked Questions (FAQ)
How do I enroll?
Enhanced Online Security is very easy to use and there is no software to install. Just follow the instructions to enroll and learn about Enhanced Online Security log-in procedures.
How does Enhanced Online Security work?
The system uses multiple layers of security ensuring unauthorized users cannot gain access to your accounts. We do this by verifying three important criteria
Your Log In Credentials – Access ID and password must match with our system records or access is refused.
Your Device – We check the device you are using – whether it's your computer, mobile phone or tablet. If we don't recognize the device, we may ask you to answer a security challenge question to ensure your identity.
Your Location – If access is being requested from an unusual geographic location, we may ask you to answer one of your challenge questions before giving you access.
Why am I being asked a challenge question?
If the bank doesn't recognize your computer or you have registered the computer as a public computer, you have the option of receiving a one-time password in your email to access your accounts or we will ask you one of the challenge questions. This is to prevent unauthorized access to your accounts. Even if a fraudster has stolen your Access ID and password, they shouldn't know the answer to your challenge question so they won't be able to access your account information from a non-registered computer.
Generally, you will be asked to answer a challenge question only when you login  from a public computer.
Can I change my challenge questions?
You can change your challenge questions at any time by clicking  "Options".
Change your challenge questions by choosing a new question from the drop-down box and typing a new answer or just typing a new answer to your current challenge questions.
Click "Submit" when finished to finalize the changes to your security data.
Can I access online banking from multiple computers?
Yes, you just need to register each computer, use the one-time passcode or answer a challenge question.
I share my computer with someone else that uses Internet Banking. Can both of us still sign in from this computer?
Yes, there's no limit to how many people can sign on from the same computer. Just remember not to share your Access ID, password or answers to challenge questions.
Fees may apply. Internet Banking usage may be subject to a fee by your service provider.
Product descriptions contained herein do not take the place of required disclosures under federal and state regulations. Please contact us for disclosures appropriate to these accounts.