Mobile Banking
Mobile Banking is the ultimate on-demand service.  It brings banking to your mobile phone.
Bank on your mobile phone via your mobile browser or app.
Check balances and view transactions
Transfer funds
Deposit checks
Pay bills
Make person-to-person payments
Don't have a smart phone?  With text mobile banking, you can check your balances and view recent transactions with a simple text message.
Visit our Online Education Center for videos on how to use Mobile Banking and for an interactive demo so you can try it!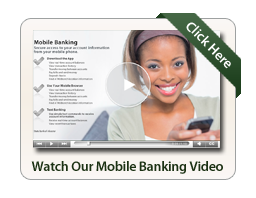 Frequently Asked Questions
How do I enroll?
Mobile Banking is available to anyone currently enrolled for our Internet Banking service. To enroll, log on to Internet Banking, select Mobile Banking and complete the enrollment information to sign up.  Make sure to have your phone available.
How do I access Mobile Banking?
Once you enroll for Mobile Banking, you'll receive a text message with instructions on how to get started.
For the Mobile App,  look for "Touch Banking" on iTunes and Google Play.  Use the app code:  SBAmobile2go.
Is my Mobile Banking secure?
Yes. A personal password and phone activation code keeps your information safe.
Non-public personal data is not sent to or stored on the mobile banking devices, and sensitive information is not available even if someone else gains access to the device. However, you should help protect your personal information by keeping the following guidelines in mind
SMS Text banking uses the phone number associated with your device for authentication. If the device is lost or stolen, you should deactivate your SMS Text banking service immediately. If the service remains active, another person in possession of the phone can use your SMS Text banking service to see account balances and transaction history.
Do not store text messages from SMS Text banking. They could be read by another person, and may contain information such as our contact SMS Text number and account nicknames that would allow another person to access your SMS Text banking.
Do not store your Mobile Banking password in the device browser. Storing the password would potentially allow another person to follow the bookmark and log in. Log out and close the browser after each Mobile Banking session to erase session information and keep an unauthorized person from using the "back" browser function to re-enter your Mobile Banking.
How do I make a Mobile Deposit?
Depositing your checks with your smartphone is easy.
Log in to the Mobile Banking app
Select "Deposit"
Enter deposit details such as amount and account
Take a picture of the front and back of the check
Confirm the deposit
What are some good tips for using Mobile Deposit?
Make sure all other apps are closed before logging into the Mobile Banking app.
Take good pictures of the front and back of the check.
Flatten folded or crumpled checks before taking your photos.
Place the check on a solid dark background.
Try not to get too much of the areas surrounding the check. All four corners must be visible.
Make sure you use a well-lit area.
Keep your phone flat and steady so the image is not blurry.   Hold the camera as square to the check as possible to reduce skew.
Carefully enter the check amount to ensure it matches the amount written on your check.
Know your deposit check amount limits and daily deposit limits. Call the bank at (605) 934-2500 to find out your limits.
Keep your deposited check for 30 days. 
My phone doesn't have Internet access. Can I still use Mobile Banking?
Yes. All you need is a phone with text messaging. You can receive account alerts and send a text to view account balance or transaction history.
SMS Text Banking messages are not encrypted, and there is no application time out. If your phone or device is lost or stolen, you should deactivate the service. Unless the service is deactivated, it may be possible for another person in possession of the phone to view any text messages stored on the device, and see information such as account balances and recent history.
Number to text:  99588
BAL + Account Nickname for current balance (example:  BAL CHK1)
HIST + Account Nickname for recent transactions (example:  HIST CHK1)
ATM + Zip Code for closest ATM (example:  ATM 57001).  NOTE:  Our ATMs in Alcester and Beresford and our bank branch are the only ones listed at this time.
BRANCH + location for branch information (example:  BRANCH Alcester, SD).  NOTE:  This lists our branch hours and phone number.
HELP for help. For customers who have Mobiliti for several financial institutions, the abbreviated financial institution name (SBA) must be used as well.
STOP to cancel.
Are there guidelines for creating account "nicknames"?
During enrollment, you are given the option of providing "nicknames" for your accounts. Choosing an appropriate nickname is especially important if you use the SMS text service for Mobile Banking, because your HIST inquiries use the nickname. It's also included in the account history message returned by the bank.
For this reason, the nickname should be as short as possible. There is a maximum of ten characters, and fewer than five is recommended if you plan to use the SMS text service.
An SMS text message can contain only 160 characters total. Using as few as possible in your account nickname helps ensure that your account information will fit into a single message.
Can I use Mobile Banking on more than one phone?
Yes. You can add phones, change services or cancel at any time from the Mobile Banking setup screen.
What are the cut-off times?
Daily cut off time for in-house transactions, such as transferring funds to internal bank accounts and making internal loan payments, is 6 p.m.
Daily cut off time for Mobile Deposits is 4 p.m. CST.
Daily cut off time for Bill Pay is 9 p.m. CST.
With Next-Day payments, the cut-off time might be as late at 9 p.m. CST, depending on the payee's processing capabilities. (Merchant payment processing may have an earlier cut off time).
The cut-off time for an Overnight Payment to be sent next day is 1 p.m. CST.
Popmoney cut-off time is 9 p.m. CST for all payments processing as next day and 12 p.m. for all payments processing as three-business days.
Fees and limits may apply.  Must be 18 years of age or older to have Bill Pay. Not all Mobile Banking Services are available on all types of mobile devices. Mobile Deposit is functional on iPhone and Android apps only. Usage may be subject to a fee by your wireless service provider.
Account Alerts may not reflect items not posted to your account, pre-authorization transactions or other pending transactions. Alerts are automatically deleted after 999 days of inactivity. State Bank of Alcester does not warrant the accuracy or timing of the alerts. Delivery of alerts may be delayed for various reasons, including service outages affecting your phone, wireless or internet provider; technology failures and system capacity limitations. You should review your account statements regularly. 
Alerts sent to your mobile device may be subject to a fee by your wireless service provider. Some wireless devices have character limits, and you might not see the entire content of the alert. Please check with your wireless provider.
Product descriptions herein do not take the place of required disclosures under federal and state regulations. Please contact us for disclosures appropriate to these accounts.